Thought leadership on the circularity economy for plastics, News, and annual plastic recycling reports
News and Media
Insights into the state of plastics recycling, national post-consumer plastic recycling reports by material, and the trends affecting plastic waste recovery from Stina Inc.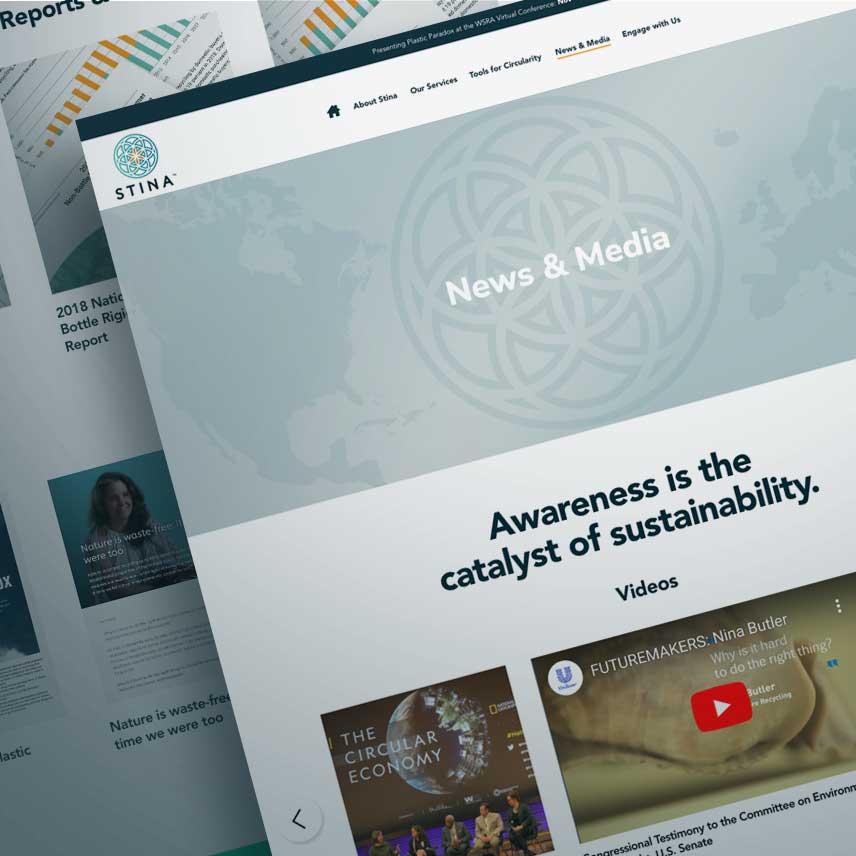 2023-12-05 National post-consumer plastic bottle recycling report, national post-consumer non-bottle rigid plastic recycling report, national post-consumer plastic bag and film recycling report, post-consumer plastics recycling in canada report, insights and trends in plastic recycling, the plastic paradox, newsmedia
Events
Our Story
Meet the Team
Press
About Stina
Research & Analysis
CircularityInAction.com
BagandFilmRecycling.org
Our Services
Videos
Visualization & Web-Based Tool Development
Info Exchange
Tools for Circularity
Articles
Stakeholder Engagement & Technical Assistance
PlasticsMarkets.org
News & Media
Reports
Buy Recycled Products Directory
Engage with Us
Webinars
News & Media
Awareness is the catalyst of sustainability.
Events
Come back to see what upcoming events we will be attending or speaking at listed here in the near future.
Videos
Reports & Case Studies
Articles
Announcing Stina From More Recycling to Stina Inc., learn how our history and vision for the future shaped our brand.
Learn More
Explore the Annual Plastics Recycling Study We track tons of plastic collected for recycling and sold to domestic vs export markets by commodity type.
See Our Work
Journey to Recyclability for Plastic Squeeze Tubes What does it take to make a package recyclable? One kep example of our CORE work is facilitating collaborative stakeholder groups to answer this critical question to arrive at recyclability and program acceptance.
See Our Work
Our Sustainable Planet Organizations that align their value and supply chain to source and sell recycled material reduce GHG emissions and waste. Whether you're a business or individual, our bold action impacts the shift to circularity.
Learn More
Top Stories
Engage with Us


Back to Top